Aurora Custom Railings for Stairs
Railings for stairs are more than just a safety aid to help you get up and down the staircase. It is also a decorative element that can be customized to better suite your style preferences. There are many finishes and wood designs to help make your railings stand out. Custom options also include specialty designs to suit the needs of young, elderly or disabled family members.
Stair Renovation Aurora
A stair renovation project sure sounds like a huge undertaking, but making some cosmetic changes does not have to put your home and the family's routine into a state of chaos. In fact, sanding and staining or recapping your stairs and installing handrail, balusters and posts can be done in just a few days. During this time we can also refinish your hardwood floors or install new hardwood, laminate or engineered flooring to the surrounding area for a cohesive and refreshed look for your home.
Staircase Companies Aurora
Servicing the entire GTA, Ideal Stairs has been awarded the "Best Of" status over the last three years by HomeStars, Canada's largest and most trusted home improvement professional review website. We continuously receive raving customer reviews because of our quality in work and materials. We offer service in a timely and cost effective manner by manufacturing stairs and various components in our warehouse.
Aurora Stairs
It is about time to tear out the dated or dull looking carpet to upgrade your home's décor, and reveal the natural wood hidden underneath. If the staircase is in need of some care and restoration, getting the stairs recapped or sanded and stained will enhance the true beauty of the wood, and leave your stairs looking phenomenal for years to come.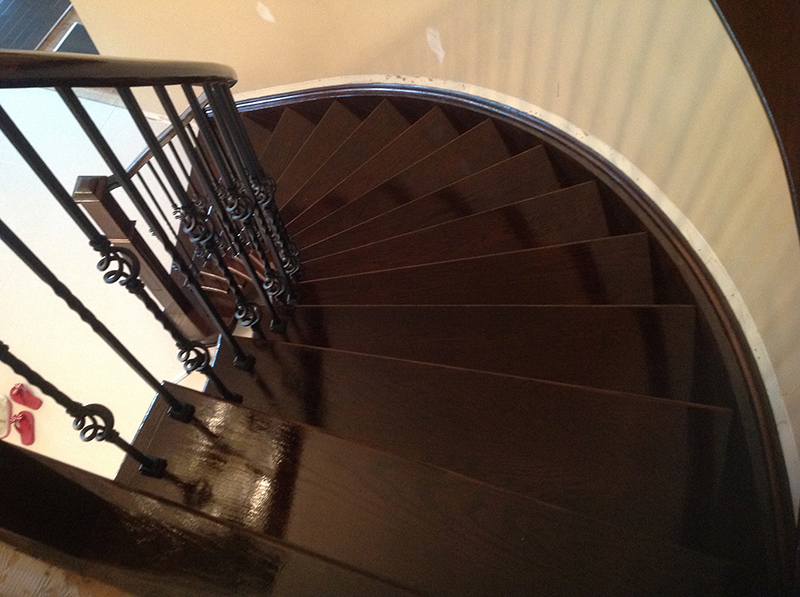 Your dream staircase is just a click away
For custom staircase designs and renovations, the experts at Ideal Stairs have you covered.
We also do flooring, sanding, staining, and more.
R.P.J Ram Flooring and Stairs Inc is committed to ensuring that the collection and processing of data carried out by our
idealstairstoronto.ca
site complies with the General Data Protection Regulations (GDPR) and the Data Protection Act. To know and exercise your rights, particularly concerning the withdrawal of consent to the use of collected data, please consult our
privacy policy