Why is Stair Recapping a Good Option?
Stair recapping is an option many customers choose when they want to refresh the appearance of their stairs. This common method is also more cost-effective than a complete stair replacement.
It is an ideal process because it does not disturb the staircase surroundings, i.e. Wall, paint and structure. Stair recapping is not only popular, cost-effective and efficient, but it is also convenient because the stairs are accessible at all times.
What is the Stair Recapping Procedure?
To start the stair recapping procedure, we must remove the existing railing system (handrail, spindles, and posts), carpet and trim. Since every staircase is different, we must take a template of each tread in order to custom manufacture the exact size and shape of each step.
Next, we cut the nosing (the part of the tread that extends past the risers) and install ¼" plywood on the stringers (side of the stairs). We do most of the painting and staining off sight in our warehouse to minimize the odor. We can now install the new treads, risers, trims and add the final finishing touches.
How Long Will Stair Recapping Take?
Stair recapping will generally take 7-10 days to complete. During this process, we prepare and cover immediate surrounding areas to maintain the original cleanly condition. Plastic coverings are used around the work areas, and at the end of each day we ensure that we perform a thorough clean-up.
Why Choose Ideal Stairs?
We have been in the stair renovation industry for 15 years, and have continuously offered our great service to all our clients in the Greater Toronto Area and surrounding regions. Prior to recapping stairs, customers have the option to choose between Canadian Red Oak, Maple or other exotic hardwoods.
We take custom templates to ensure that we manufacture treads and trims that are suitable for your stairs. All stain and finishing is matched in our warehouse, and approved by our client prior to the application. During the renovation process, we continuously update our client with the status of their project.
Our precision work and constant communication with our clients ensure that they are completely satisfied with our service, and finished product.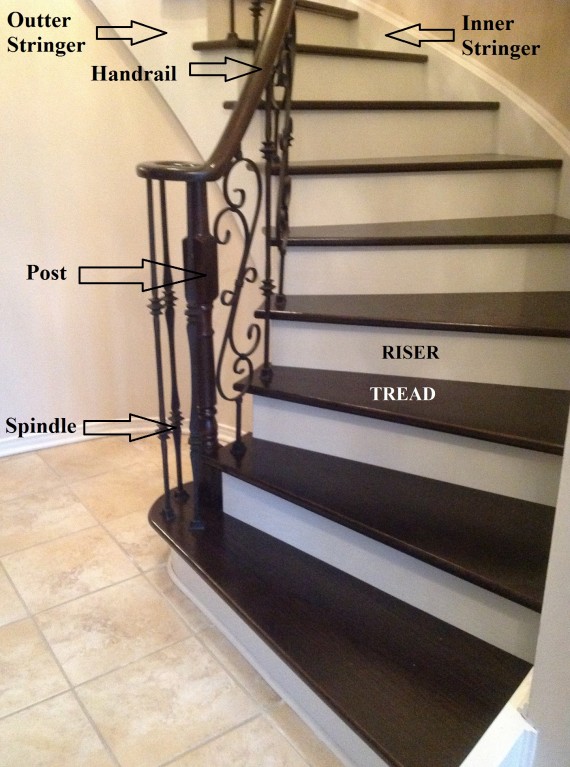 Step it up with custom stairs and flooring