Custom Railings for Stairs Woodbridge
The great allure of owning a dream home is having everything just the way you have always envisioned it. Having a grand staircase as the focal point to your entryway can easily be attained with custom railings for stairs. By implementing your own creative style or choosing from a wide array of wood designs and finishes, your ideal staircase will become a reality.
Stair Renovation Woodbridge
If you just moved into a new home or are looking to revamp the look of your current house, you may want to start with a stair renovation. Since the staircase is a major functional and design element in a home, choosing the wood finish and style of the stairs, balusters and posts can set the tone for the look and feel to the rest of the house.
Woodbridge Staircase Companies
Based in the GTA, Ideal Stairs has an on-site factory which allows us to manufacture almost every component needed for a staircase project. Not only does this help save money for our customers, it also minimizes the time required to complete you stair project. Customers have been so thrilled with Ideal
Stairs that HomeStars,
Canada's largest and most trusted home improvement professional review website has given us the "Best Of" award for the past three years.
Woodbridge Stairs
Have you already renovated the interior of your house, but have yet to think twice about your carpeted or dull hardwood stairs? Since stairs are used on a daily basis for travelling from one floor to the next, it will become old, dull and out of style in comparison to the rest of the decorations and renovations made over the years. Through recapping, or sanding and staining, and replacing the railing system, your stairs can look amazing while complimenting the rest of your living space for a comfortable and glamorous look.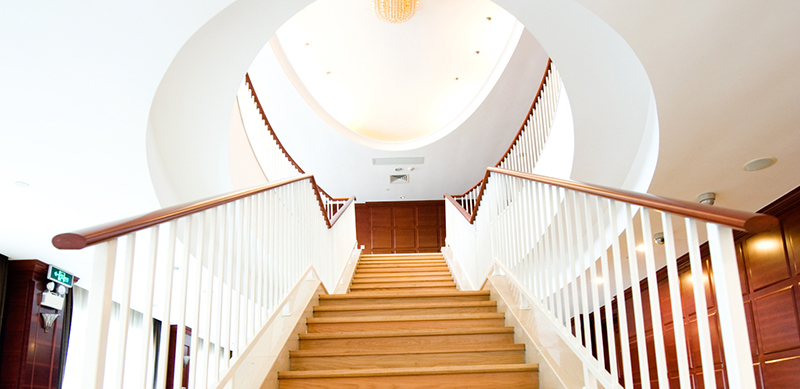 Your dream staircase is just a click away
For custom staircase designs and renovations, the experts at Ideal Stairs have you covered.
We also do flooring, sanding, staining, and more.
R.P.J Ram Flooring and Stairs Inc is committed to ensuring that the collection and processing of data carried out by our
idealstairstoronto.ca
site complies with the General Data Protection Regulations (GDPR) and the Data Protection Act. To know and exercise your rights, particularly concerning the withdrawal of consent to the use of collected data, please consult our
privacy policy