Oakville Railings for Stairs and Their Many Purposes
When it comes to giving the interior of your home a makeover, new paint, carpeting, wall and window hangings usually come to mind, but what about new railings for stairs? Making a simple alteration to the stair handrail, balusters and posts can dramatically change the look, and feel of your living space by modernizing a focal point that is sometimes overlooked. Customizing railings for stairs is also important from a safety standpoint if there are children, elderly or less able bodied members of the household.
Stair Renovation Oakville
It is never a good thing when there are loose or broken parts in any equipment or furniture, but it can be extremely dangerous if the same applied to a staircase. While we renovate your stairs to upgrade its condition and appearance through recapping or sanding and staining, we will address any issues with loose parts of the treads or railing system such as the handrail, balusters or posts.
Who is the Best among Oakville Staircase Companies?
Thousands of homeowners have relied on HomeStars, the largest and most-trusted contractor evaluation company in Canada. Homeowners are able to research and choose their most trusted renovation company through customer reviews. Over the past three years, Ideal Stairs has been awarded the 'Best Of' winner for staircase companies based off our excellent customer reviews on the our quality work and service for stair recapping, sanding and staining and newly built stairs at a competitive price
Oakville Stairs for Home
Whether you are in a new build or an older home stairs are a very important from a functionality standpoint. They allow us to travel from one floor to the next safely with the help of sturdy railings and treads. Stairs can also have a huge impact on the appearance of a room and with our expertise, we can help alter the style by either recapping, sanding and staining, replacing or changing the style, colour and texture of the railing system.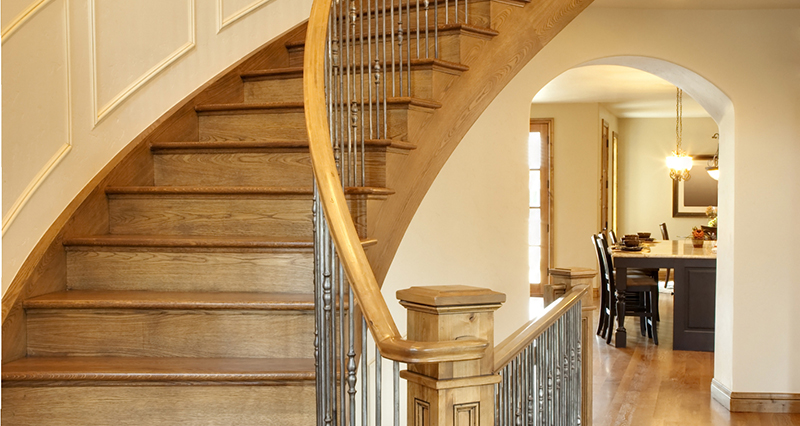 Your dream staircase is just a click away
For custom staircase designs and renovations, the experts at Ideal Stairs have you covered.
We also do flooring, sanding, staining, and more.
R.P.J Ram Flooring and Stairs Inc is committed to ensuring that the collection and processing of data carried out by our
idealstairstoronto.ca
site complies with the General Data Protection Regulations (GDPR) and the Data Protection Act. To know and exercise your rights, particularly concerning the withdrawal of consent to the use of collected data, please consult our
privacy policy