Stouffville Custom Railings for Stairs
Not many of us can imagine going up or down a staircase without the security of a handrail. This is especially true for those who are young, elderly or disabled family members. Stair railings are necessary as a functional and safety component when traveling from one floor to the next, and can be customized to suit everyone's needs while complimenting the interior decorations. Options include various types of wood, design, colour and texture enhance the beauty of your staircase.
Stair Renovation Stouffville
Is it time for a renovation to add some glamour to your living space? Something as simple as adding a fresh coat of paint on the walls can go a long way. While refinishing your stairs can add an even more dramatic appearance as this is a major element to any home connecting one floor to the next. In approximately 3-4 days, through the options of recapping or sanding and staining and updating the railing system, your interior décor can easily be complimented by the new looks of your stairs.
Staircase Companies for Stouffville
With a home office and factory in the heart of the GTA, Ideal Stairs is a step above other staircase companies because we are able to manufacture most parts in-house, allowing our customers to save time and money. In addition, we have won the "Best Of" status in the past three years through HomeStars, Canada's largest and most trusted home improvement professional review website, and we could not have achieved this award without the help from our customers in providing us great reviews for our service.
Stouffville Stairs
Similar to wallpaper and paint, colours can become dull, boring and fall out of style. The same applies to the appearance of your stairs and its finish. If you currently have carpet, it  can be a hassle to maintain and look worn over time. However, with renovation in a few short days, you can have brand new looking stairs by either having them recapped or sanded and stained and simply updating the old spindles for a new wood or wrought iron design, and changing or replacing the handrail and posts with a different size, design or colour.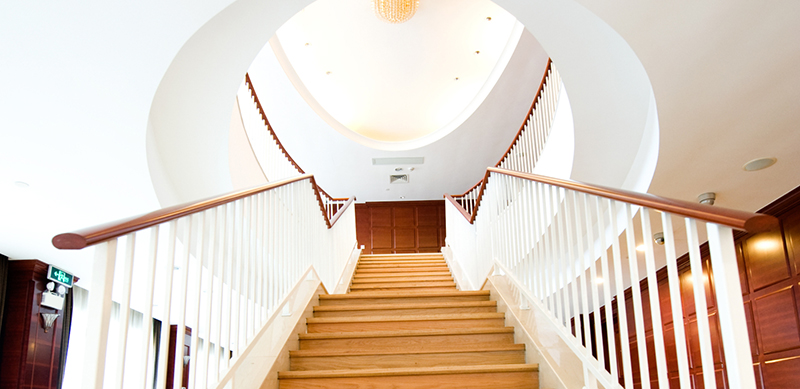 Your dream staircase is just a click away
For custom staircase designs and renovations, the experts at Ideal Stairs have you covered.
We also do flooring, sanding, staining, and more.
R.P.J Ram Flooring and Stairs Inc is committed to ensuring that the collection and processing of data carried out by our
idealstairstoronto.ca
site complies with the General Data Protection Regulations (GDPR) and the Data Protection Act. To know and exercise your rights, particularly concerning the withdrawal of consent to the use of collected data, please consult our
privacy policy