Custom Railings for Stairs Brooklin
More than just a safety aid for anyone walking up and down between floors, railings for stairs can also be used as a way to enhance your interior decoration scheme. Since a staircase is a big focal point in any space, you can increase the elegance and detail factor in the room by changing the handrails, posts and spindles to better suit or improve your home's décor.
Stair Renovation Brooklin
Staircases can be one of those things that make or break a room's look and feel. Not every home builder or previous owner has great taste, so a stair renovation may be in order to bring your staircase up to your style standards. This could mean tearing out carpet or tiles, sanding and staining or recapping the stairs to uncover and enhance the natural beauty of the wood structure.
Brooklin Staircase Companies
Ideal Stairs is located in the GTA and is unlike other staircase companies because we have a combined head office and warehouse. This means we are able to manufacture most parts for any staircase renovation or repair and have projects completed in about three to four days. Competitive pricing, skilled installation crews and quality materials has earned Ideal Stairs the "Best Of" award for the past three years at HomeStars, Canada's largest and most trusted homeowner contractor review website.
Brooklin Stairs
Something as simple as removing carpeting or sanding and staining the staircase, and its surrounding floor can have a huge impact on the look and feel of your room. Stairs are a focal point of any space, so use your imagination. If you need some inspiration, ask for suggestions from your renovation team and soon enough, you will be enjoying the unlocked aesthetic potential of your staircase.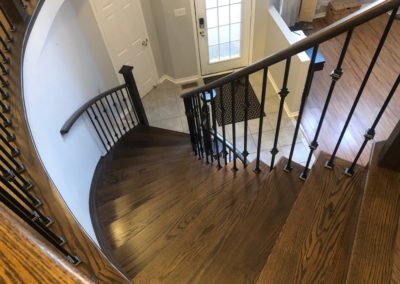 Your dream staircase is just a click away
For custom staircase designs and renovations, the experts at Ideal Stairs have you covered.
We also do flooring, sanding, staining, and more.
R.P.J Ram Flooring and Stairs Inc is committed to ensuring that the collection and processing of data carried out by our
idealstairstoronto.ca
site complies with the General Data Protection Regulations (GDPR) and the Data Protection Act. To know and exercise your rights, particularly concerning the withdrawal of consent to the use of collected data, please consult our
privacy policy